BIOPEN and EXCornsEED are organizing a bio-based networking event during the International Forum on Industrial Biotechnology and Bioeconomy (IFIB).
We are pleased to invite you to this initiative, taking place in Naples, Italy, on 03 October 2019 from 2 to 5 pm.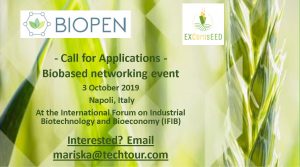 The networking event will include
First results of the stakeholder analysis including biotech industries and bio-based products brand owners, in the framework of the EXCornsEED project
Presentation of the winning support IT tool for both BIOPEN and EXCornSEED projects: the highly innovative information platform offering a one-stop-shop to access, organize, analyse and share relevant information needed for research and technological innovation processes (https://www.wheesbee.eu/wheesbee-web/).
A pitching training session which will serve as a dry-run platform where companies take the chance to present their business proposals, to fine-tune their pitch and their presentation skills, and improve their investor and partnering readiness. Companies active in the bioeconomy sector and considering seeking fundraising or partners in the next two years will be given a unique opportunity to present their business projects, get valuable advice from a panel of coaches composed from experts in innovation, business angels, venture capitalists, corporate and institutional investors and peers. The session also allows to network with the audience of the event, which will be organized in a highly interactive format.
Your benefits by pitching at the bio-based networking event
Getting access to a coaching session on pitching to investors and partners to be well prepared for the partnering event taking place at IFIB or for your future pitching opportunities
Networking opportunities with investors, industry experts and peers
Access to the IFIB 2019 event confirmed as one of the leading events for the circular bioeconomy, with a partnering event and a one to one meetings event running in parallel to IFIB Conference, giving you the opportunity to meet potential commercial and technological partners in the field of bioeconomy.
Acquire information about the innovative IT business intelligence platform adopted in the bio-economy sector
Don't miss this unique opportunity to stimulate innovation, moving the bio economy sector forward!
Registration is free but mandatory and is in two steps:
Let us know your interest by contacting Mariska Bouterse (mariska@techtour.com)
Register to IFIB2019 at https://ifibwebsite.com/registration/
Looking forward to hearing back from you.
Mariska Bouterse
Project Manager, TechTour
Offices in Brussels, Geneva and Sofia
T +359 2 419 8296
M +359 895 816 703
E  mariska@techtour.com
W www.techtour.com
About BIOPEN:
BIOPEN is a Biobased Industries JU project aiming to support collaboration and knowledge sharing in the bio-based industry and to stimulate the set-up of co-innovation partnerships for the development of new products and markets in the sector by setting up an open innovation platform capable to involve industries, research centers and universities. BIOPEN is an actively managed platform, pre-filled with relevant information on funding opportunities, and the ability to search for bio-based information on patents, literature and in any other open access knowledge repositories. It aims at:
• Clustering and networking to develop new value chains and favour the emergence of co-innovation partnerships across the value chains;
• Engaging stakeholders and supporting them to set up co-innovation partnerships alongside existing and new value chains
• Creating a knowledge centre, including five new perspective studies on value chains in the biobased sector, as well as biobased products overview
BIOPEN has received funding from the Bio Based Industries Joint Undertaking under the European Union's Horizon 2020 research and innovation programme under grant agreement No. 745719.
For more information about BIOPEN, please visit the website: https://www.biopen-project.eu
About EXCornsEED:
The EXCornsEED project aims to exploit the convergence between science, chemistry, biology, engineering and biotechnology tools for the creation of new knowledge and innovative applications to develop and validate and integrated process of innovative and highly sustainable extraction, purification and concentration technologies to be applied to biorefineries side streams. The objectives are the recovery of proteins and several other bio-active compounds and the preparation of these as ingredients for food, specialty chemicals and cosmetics markets. The EXCornsEED consortium is composed by 13 teams (universities, companies, research centers) from 7 European countries (Belgium, Germany, Italy, Netherlands, Romania, Slovakia, Spain). The project is coordinated by the Sapienza Università di Roma, has a duration of 42 months and is funded by the Bio-Based Industries Joint Undertaking (BBI JU) under the European Union's Horizon 2020 research and innovation programme with more than 4.2 million euros (grant agreement n°792054).
For more information about EXCornsEED, please visit the website: https://www.excornseed.eu/