The European Bio Economy Venture Forum aims to support the world-wide efforts towards a green economy, while maintaining well-being within the limits of our planet and protection of human health and the environment.
Up to 36 companies active in the bio-based sector will be selected to present at the Forum. They will meet with international investors and corporates during the two day event including a networking dinner.
We are happy to announce that the BIOPEN Project has teamed up with the European Bio Economy Venture Forum and launches  a 'CALL FOR APPLICATIONS' for SMEs and other stakeholders in the bio-based sector, as part of the Tech Tour 2019 European Bio Economy Venture Forum, taking place in Viborg, Denmark on 19-20 June 2019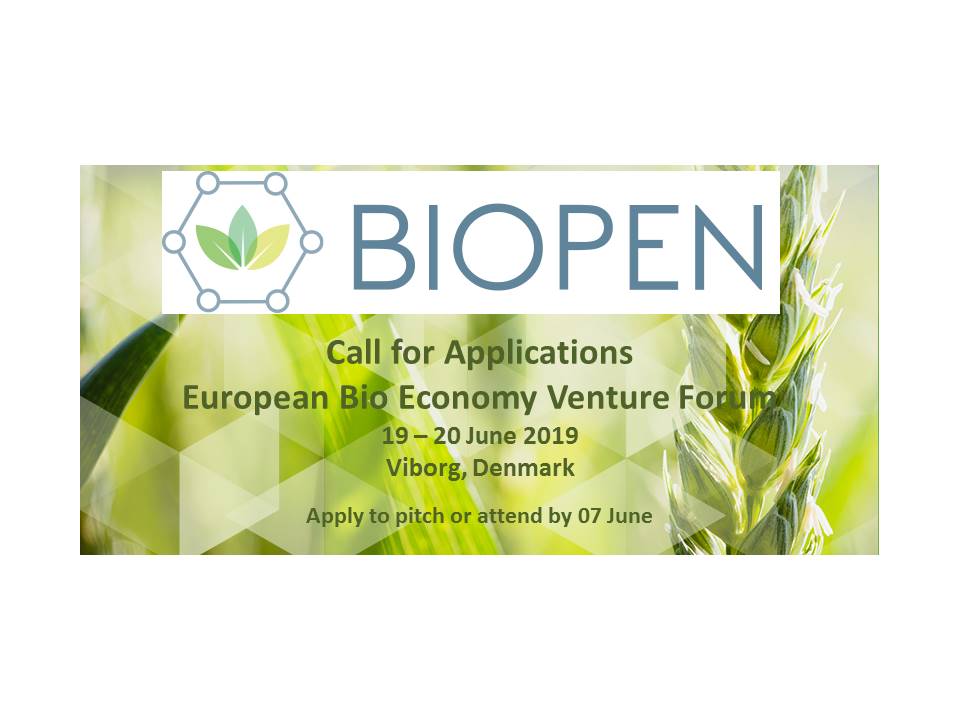 Would you like to pitch your bio-based company to a range of coaches, experts and investors coming from all over Europe? Apply by 07 June 2019 at https://bit.ly/2DbF4QY
 Other interested parties are invited to apply by 7 June 2019 at https://bit.ly/2IodELa and get the chance to learn about BIOPEN's new perspective studies, learn about the new BBI JU calls for proposals and network with the other participants.
What's in for you.
BBI JU Call for proposals: BIOPEN will present and discuss the Bio-based Industries Joint Undertaking (BBI JU) calls for proposals and organise active networking to stimulate the set-up of co-innovation partnerships for the development of proposals and new products and markets in the sector;
Brokerage session: BIOPEN organises a session allowing companies/projects interested to partner with peers to respond to open calls for proposals to present themselves;
Perspective studies: BIOPEN will present and discuss its five new perspective studies on value chains in the bio based sector;
Coaching Sessions: on 19 June the EBVF companies selected to pitch in front of investors will dry-run their pitches with a team of coaches;
Networking: A dinner on 19 June open for all participants and active networking alongside of the event;
Pitch at the Forum: on 20th June, selected companies will pitch in front of investors, all will attend focused keynote speeches and panel discussions, and have plenty of networking opportunities, including One2One meetings.
Top quartile presenters will qualify as finalists and will be able to attend and present at the European Venture Contest Final in December with 150+ investors, corporates and players active in different tech areas.
There is no fee for applying or attending for participants attracted from the BIOPEN networks (you only need to cover your own travel and accommodation costs)
For Registration: register online as presenting company (before 31 May) or as other participant (before 7 June 2019) for the Forum at the registration page, linked above.
Profile:  For companies applying to pitch to a range of coaches, experts and investors, please make sure you update your company or project profile that will help us make our selection.
The role of entrepreneurs, industry and investors is essential to the successful development of a knowledge-driven economy in the Bio Economy sector. The European Bio Economy Venture Forum, in collaboration with BIOPEN will offer a unique platform for stakeholders to exchange knowledge and build long lasting business cooperation.
Should you have further questions regarding the event, please do not hesitate to contact:
Youssef Sabbah
Europe Unlimited
Email: youssef@e-unlimited.com