The BIOPEN coordinator, Dr. Patrizia Circelli presented the BIOPEN project during the June 19 morning session of the European Bio Economy Venture Forum.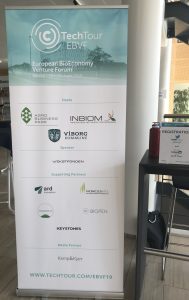 The open innovation platform, uniquely designed for the biobased sector, was presented. BIOPEN is an effective Open-Innovation platform, favouring the emergence of co-innovation partnerships through innovation projects' matchmaking and sharing of knowledge. Users can publish qualified innovation projects' ideas or look for partners among leading European organisations. The BiOPEN platform is capable of supporting matchmaking between projects and the stakeholders accessing the platform. A knowledge centre is also accessible through the platform, allowing users to access information about the state of art, with one click they can easily  search and download pubic available scientific papers, over millions of patents, funded project  at EU and national level and a database of bio-based products already on the market. Moreover, BiOPEN offers an updated database of European and other funding programs.
The day was an opportunity to present the five new perspective studies on value chains in the biobased sector, about:
Novel bio-polymers and oligomers for plastics (PEF, PA12), rubber, adhesives, additives, surfactants and peptides for feed applications
Environmentally friendly coatings and packaging materials for food, beverages and flowers to obtain prolonged preservation and consumer protection
Products and applications based on lignocellulosic feedstock, mainly wood: technical timber products with enhanced construction properties and base chemicals and building blocks for the chemical industry
Drop-in and functionalized bio-aromatics: greening the conventional aromatics market and offering a portfolio of new applications
Micro and marco algae for the production of specialty chemicals and high end value added products for dietary supplements, cosmetics and pharmaceutical applications.
Finally, BiOPEN presented to the participants the Bio-based Industries Joint Undertaking (BBI JU) calls for proposals and organised active networking to stimulate the set-up of co-innovation partnerships for the development of proposals and new products and markets in the sector.