IPSEN, the Industrial Process Systems Engineering Unit of the National Technical University of Athens – is pleased to invite you to the 5th workshop of the H2020 BiOPEN project, in Athens, Greece, on 25 October from 9:30 – 17:00 h.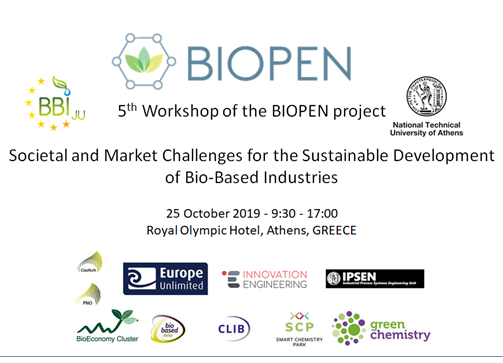 Societal and Market Challenges for the Sustainable Development of Bio-Based Industries
The workshop will treat the most important social and environmental challenges that bio-based industries are called to address emphasizing in synergies of policies and business outlooks for capacity building and the support of customer driven networks. In the morning, experts will present financial and networking instruments, will describe the thematic domains of the BiOPEN Project and will provide paradigms of societal and marketing drivers and link them to enablers of the bio-based economy. In the afternoon, a round table will work on defining strategies for fine tuning between market and societal needs, with respect to the involvement of business in establishing and advancing the bio-based sector. A detailed agenda will follow soon.
Registration and welcome refreshments from 9.30 am. Attendance is free, but registration is required; use the free registration form.
The Project
BIOPEN (https://www.biopen-project.eu/) is a Biobased Industries JU project aiming to support collaboration and knowledge sharing in the bio-based industry and to stimulate the set-up of co-innovation partnerships for the development of new products and markets in the sector by setting up an open innovation platform capable to involve industries, research centres and universities. The Project stands as an actively managed platform, pre-filled with relevant information on funding opportunities, and the ability to search for bio-based information on patents, literature and in any other open access knowledge repositories.
The Venue
Royal Olympic Hotel Athens, Conference Hall, Ground Floor.
Reach the venue from Athens International Airport, as indicated here.
Consult available real-time public transportation options to Royal Olympic Hotel with Google Maps Transit